After another semester of BCM 114 there's always a time where you reach the end, in this case the end of our Digital Artefact (our, as in myself, Anthea and Leah).  After experimenting with the digital artefact for the first few weeks of semester 2, and going through the processes of Ideating and Prototyping, we have now reached the final stage of…..
M A K I N G!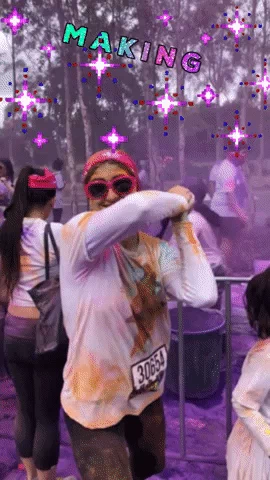 Leah, myself and Anthea all started off with 'Time 2 talk" and definitely encountered certain feedback loops along the first few weeks, as we all realised it just wasn't the best DA idea to stick with and continue over the semester.
We had gone through the FEFO process but found ourselves back on our feet when we came up with "IF YOU LIKE PINA COLADAS".
Ever since starting @ifyoulikepinacoladas we all noticed how much simpler this process was compared to Time 2 talk and considering how much easier it was to run the Instagram account than our YouTube channel, we were receiving much more engagement than Time 2 Talk, and this was the initial key that made us want to stick with the Instagram page.
After discovering who our initial target audience were, being more men than women, but mainly individuals aged 18-24, with this information we were able to continue running the Instagram, keeping in mind our main target audience were young adults and teenagers like ourselves, who enjoy going out to a bar and ordering an aesthetic cocktail, or having brunch, and fatty burgers after a night out, or just those foodies that exist out there and love eating out as much as they can (basically me describing myself).
We were now at the stage where we have curated a great, colourful looking feed, with an array of photos from burgers, pizza, nachos, plenty of different types of cocktails for each day, not only weekends. After gaining more than 400 followers it was safe to say we were gaining an average of at 20 likes per post without hashtags, and after implementing hashtags and seeing the success we decided that we were definitely going to stick with them as they were not only letting us gain more followers, but more likes. The account is now, safe to say, up and ready, as we experimented for a few weeks, tried different hashtags, different photos, not only just drinks, but food and doing reviews of places, and in all we found that we had a great rhythm going and definitely had created enough content and ideas to further curate and aggregate.
In saying so after our project beta we were repeating, more REMAKING, what we do daily with the account. We now have a concrete plan, a structure if you call it on how and what to do, to keep the account running successfully and smoothly.
OUR DAILY STRUCTURE
Select either a photo of cocktails or other alcoholic drinks that are colourful, and one where you can tag the place.
OR Select a great photo of a meal/dish someone would eat after a hangover or a photo of food that looked too good to eat, #instagramworthy so you would say.
Then post at least once a day and use any food or drink hashtags possible to receive more likes and followers, as well as tagging the location and place we visited in hopes for a repost.
Do a review of a bar/café every month or two (depending on if we have time, and enough $$$ in the bank)
Continually post on our stories about new posts, reviews etc
And by repeating this same process every day is what becomes the main objective to keep it up and running. Now that we are creating the content based on what our audience likes, are still attracting the same users aged 18-24, and receiving the same number of impressions on our posts we have basically reached a process within the Digital artefact where our ideas and several prototypes are concrete, and all we had to do now is continue these steps and gain more followers with the new content we are posting every day.
Looking back at the several ideas we had prototyped it is definitely fair to say this artefact carried out all the FIST options…
F a s t
It became very easy to post through the Instagram, and the account was created within 5 minutes, using a platform like Instagram it's very easy to produce content, as the app allows you to edit, crop, post, delete, comment, follow, unfollow within seconds.
I n e x p e n s i v e
As Leah, myself and Anthea have gone out numerous times in our young adult lives, we have had content for this page ready three years, as we simply made a folder in each one our phones with every type of food/drink photo possible ready to post. In saying this, this means we have never actually had to go out anywhere within the past semester just for the purpose of purchasing a meal or drink just to have content for @ifyoulikepinacoladas. In saying so, we have gone out and done a review specifically for the page, but the review was cheap itself, so we didn't find ourselves breaking our budgets at all, and we intend to continue these reviews every month or so to have more interaction and 'newer' content on our page.
S i m p l e
It's pretty straightforward. Post delicious looking photos and drinks as much as we can. As of now this project is very simple but considering it could continue for longer than this semester and who knows become more successful that's when it could start becoming more complex, as simple ideas could become much more diverse and complicated.
T i n y
For now, it's definitely a tiny idea, as it's simply running an Instagram account, only this time for an intended audience, but it is on its way to becoming a big Foodie Instagram that could potentially allow us to get food and take photos of it for free and get invited to certain launches and in all bars and restaurants.
T H E   F U T U R E ?
Now that I can say the artefact has gone into the 'remaking' process it is possible for me Leah and Anthea to consider re-ideating and prototyping for more fresh and new ideas for the new year to potentially reach this account somewhere bigger than just a local foodie Instagram. Our goal is to potentially collaborate with other foodie accounts and even restaurants/cafes and bars themselves to potentially get invited to eat their food and try their menus in exchange of reviews and photos. This is something that exists with many big popular food Instagram pages and something we can hope to definitely consider in the future.